Hello!
So, as we know I am egalitarian in that I believe that men and women are equal and they can make equal decisions in marriage etc. Of course, no matter how hard I try, I will never be able to donate sperm and if I ever find that I can, I need to see a doctor… So we can't always do the same thing but in our humanity we are equal.
I know many people who are complimentarians, this is the idea where the man is the head and the woman is the neck "eugh" anyway… So this stupidness runs deep. I found out the stupidest thing happened, which just explains the stupid of that heterodoxy:
A woman who shall remain nameless, a friend of a friend, was (maybe still is I don't actually know) married to the man of her dreams and believed in the whole man is the head of the household thing and that she was the neck. Her husband one day had an "inspired idea" to go and do something, which shall go unmentioned, which was overtly wrong (when it was explained to me what he did it was clearly wrong even to someone who is not a Christian). Now the silly wife knew this thing was wrong, however, she believed that as a wife Jesus and the bible says that she should just follow her husband's instruction explicitly without comment. Sooooo, the wife went along with her husbands sin and just believed that her submission to his authority would somehow change him so he would see how wrong he was (I don't know how she rationalised that but oh well….). Oh and the wrong thing that the man did cost them hundreds of thousands of pounds. Anyway, so the wife also believed that because the husband was the "head" God will see him as being more responsible for any sins committed in the marriage than her and that he, in God's eyes, takes all the responsibility for all of the decisions made in the marriage and that God will judge him not her for them. So she didn't think that God would see her as having any responsibility for anything that happens in the marriage even any bad decisions that she went along with because she thought that she was just being a "good" Christian by doing what her husband says and it doesn't matter if what the husband says is wrong she should just follow and God will bless her for that.
How do some people manage to finish school?..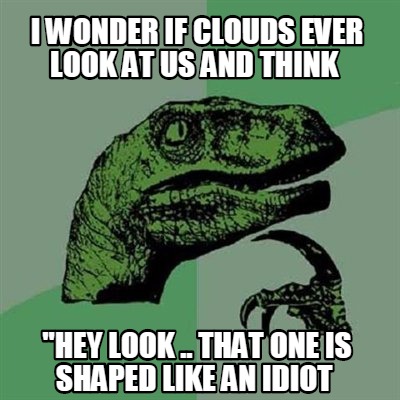 Does anyone but me see what's wrong with that scenario? It is of course the logical conclusion to that heterodoxy. Ok sooo there are a MANY things wrong with this scenario. Where do I start, hmmm let's deal with the whole diminished responsibility thing first. I'm just going to let the Bible do the talking!
So the Bible says that everyone is personally responsibly for her or his sins. We see that individuals suffer for their own sins:
(Ezekiel 18:20 NLT) "[19] "[20] The person who sins is the one who will die. … and wicked people will be punished for their own wickedness."
I don't know where that woman got her silly views from but it was informed by a false doctrine that was part of another false doctrine regarding women's unfailing submission to beings equipped with peniii (pronounced peen-eye lol I love the top definition here https://www.urbandictionary.com/define.php?term=Penii). However, I'm on a roll with the whole sin thing so I won't be tackling that today (it would literally be around 60k words worth of explanation) let's carry on ->
In fact, in the Old Testament, not only were individuals responsible for their sins but their sins could also have an effect on their children as well! Looky looky!!!
(Exodus 34:7 NLT) "[7] I lavish unfailing love to a thousand generations. I forgive iniquity, rebellion, and sin. But I do not excuse the guilty. I lay the sins of the parents upon their children and grandchildren; the entire family is affected–even children in the third and fourth generations.""
(Numbers 14:18 NLT) "[18] 'The LORD is slow to anger and filled with unfailing love, forgiving every kind of sin and rebellion. But he does not excuse the guilty. He lays the sins of the parents upon their children; the entire family is affected–even children in the third and fourth generations.'"
These verses show that the sin of an individual can affect the other generations that come after them, which is true take the Holocaust for example, to this day Germany is still not allowed to have an army. Also, think about jail time. If someone's Father does something that means that he goes to jail then the family is affected because the home becomes broken when one parent leaves. What you do affects yourself as well as others.
We also see verses of scripture that show us how we can be judged as accomplices to other people's sin:
(Luke 12:47-48 NLT) "[47] "And a servant who knows what the master wants, but isn't prepared and doesn't carry out those instructions, will be severely punished. [48] But someone who does not know, and then does something wrong, will be punished only lightly. When someone has been given much, much will be required in return; and when someone has been entrusted with much, even more will be required."
She knew what her husband was doing was wrong, the man was an idjit (click here for the definition: https://www.urbandictionary.com/define.php?term=idjit) but she went along with it anyway.
(Lol flock of penises https://www.urbandictionary.com/define.php?term=Penii Ok ok ok I'm going to be serious now… * slaps hand * bad Catherine ! naughty!! Lol I'm in such a strange mood right let's carry on. I think I'm just so unimpressed and angry with that woman I'm struggling to take this seriously. Anyway…)
She knew what her husband was doing was wrong and she just went along with it. Pfft… Women were designed to be the ezer that is the helpmeet. B. Boyd (2013) explains this function quite well:
"…women were not created as afterthoughts, add-ons, or additives, like the kind I put in my truck's gas tank, to give me a little boost. No, they were an integral part of the deal, from the very beginning of time…God welcomed His first divine daughter in a pretty powerful way: He referred to her by the Hebrew term ezer kenegdo, which translates in English to "helpmeet" or "helpmate". As the NIV version of the famous verse has it: "The Lord God said, "It is not good for the man to be alone. I will make a helpmeet suitable for him" (Genesis 2:18 NIV)…twenty-one times the phrase ezer kenegdo is used throughout Scripture, sixteen of them are used to refer to God himself [examples: Psalm 30:10; 33:20; 115:10; 146:5.] God uses the same name for Eve that he uses for himself, which means that unless God had a massive inferiority complex, he had something more in mind than women as congenital add-on to man…"If Adam must think for, decide for, protect, and provide for the woman, she actually becomes a burden on him – not much help (which is why people in certain cultures just sell or abort their daughters), when you think about it. The kind of help man needs demands full deployment of her strengths, her gifts, and the best she has to offer. His life will change for the better because of what she contributes to his life" (Boyd 2013, pp. 18-20).
BOOM!
If we are not opening up our mouths and telling our husbands when they are wrong (provided that they aren't the kind of men that will give you a beating for it) then we are in the wrong too. Partly because, as Boyd (2013) shows us, we are failing to fulfil our God ordained purpose to "help". You are not helping him by not telling him the truth when he is wrong, that's not faith its gosh darn stupidity. We are missing the mark when we do that and that is the definition of the term used for "sin" in the bible.
Yes pray by all means but open up your mouth, if your faith leads you to a place where you can't council your husband then
1.) You're not mature enough to be married
2.) You shouldn't be married to him, especially as his mistake cost them sooooooooooooooo much money and it was foreseeable.
3.) You need to question the type of Christianity you are practising, if your faith practices are leaving you bound, leading to sin and are not leading to any personal transformation within individuals that practice it then it is an occult form of Christianity.
That kind of inappropriateness leads to "sin" and everybody missing the mark.
The noun חטא (het') means sin and comes from the identical but differently pronounced verb חטא (hata'), which means to miss a mark, target, goal, objective. The word sin literally means "a missing." examples include:
Judges 20:16, "Out of all these people 700 choice men were left-handed; each one could sling a stone at a hair and not miss."

Proverbs 19:2, "…and he who makes haste with his feet errs." (Abarim Productions 2019, Romans 7)
You don't confront your husbands sin you, him and your marriage fails and you get to a place where you shouldn't be and you miss your goals or objectives and this is "sin". Again, if the kind of Christianity you are practising is making you do that it's not Christianity at all and it's heterodoxy. This is the logical conclusion to the Submission theological perspective she was practising it expertly and it led to it's logical conclusion.
Christianity is all about taking personal responsibility for the things that you have done wrong. That is part of being a mature Christian. Jesus showed us the ultimate example of taking responsibility when He died on the cross for us. If we continue to sin willingly there is no other sacrifice for that.
At the end times we will all have to give account of everything we have done. You will be alone, confronted about what you did and more than likely naked because that is the way that God sees us:
(Matthew 12:36-37 NLT) "[36] And I tell you this, you must give an account on judgment day for every idle word you speak. [37] The words you say will either acquit you or condemn you.""
(Romans 14:12-13 NLT) "[12] Yes, each of us will give a personal account to God. [13]… Decide instead to live in such a way that you will not cause another believer to stumble and fall."
(Revelation 20:11-15 NLT) "[11] And I saw a great white throne and the one sitting on it. The earth and sky fled from his presence, but they found no place to hide. [12] I saw the dead, both great and small, standing before God's throne. And the books were opened, including the Book of Life. And the dead were judged according to what they had done, as recorded in the books. [13] The sea gave up its dead, and death and the grave gave up their dead. And all were judged according to their deeds. [14] Then death and the grave were thrown into the lake of fire. This lake of fire is the second death. [15] And anyone whose name was not found recorded in the Book of Life was thrown into the lake of fire."
We are all responsible for our actions, just because your husband told you to do it and you are willingly "submitting" to him like a twit doesn't mean that you are not going to get punished if the thing is wrong especially if you are NOT in a situation where he is going to beat you if you say something. Women whose lives are in danger if they say something to or about their husbands is another issue and I am not talking about them. I am talking about those who are in loving relationships and all they have to do is open up their mouths and say no to their husbands. Those women are going to get themselves into trouble with God if they do not say something.
Besides, Paul said if you do something that you think is wrong then you are sinning:
(Romans 14:23 NLT) "[23] But if you have doubts about whether or not you should eat something, you are sinning if you go ahead and do it. For you are not following your convictions. If you do anything you believe is not right, you are sinning."
You will have to give account of your actions to God, God isn't going to excuse you because your husband told you to do it, God is not interested in what your husband did or told you to do God is interested in what YOU, what did YOU do of your own volition. Why do people keep adding things to the Bible?
Catherine
Bibliography
Abarim Productions. 2019. 'Romans 7' Abarim Productions Web site, at: <http://www.abarim-publications.com/Bible_Commentary/Law_And_Sin.html#.XTCC9IXfv7g&gt; 18 July 2019
Boyd, B. 2013. Let Her Lead: Creating a Better Future for Women in the Church. Colorado: Bonfire Books, LLC.