Hello,
Did you know my father used to be a scientist? No? Well now you do…
Anyway lol, today's chit chat will be about the brain, emotions and how in my mind they prove that there's a God. FYI, the featured image above is an actual poster of the brain I have in my room. Let's go!
Emotions like fear and love are carried out by the limbic system, which is located in the temporal lobe of your brain. The structures are highlighted in the image below:
The limbic system is made up of multiple parts but the centre of emotional processing is the Amygdala, this receives input from other brain functions, like memory and attention. Let's break down the itty bit's to understand what's going on in our heads!
Amygdala – (highlighted in pink!)
Almond shaped and responsible for multiple emotional responses such as: love, fear, anger and sexual desire. In animal studies from Shippensburg University, found that stimulating or removing the Amygdala can alter emotions:
Electrical activation causes aggression
Surgical removal results in indifferent emotional reactions.
Therefore, damage to the Amygdala can result in abnormal emotional responses and over-stimulation causes excessive reactions.
Hippocampus – (highlighted in orange!)
This sends information to the Amygdala and is one of the memory processing centres of the brain. It interacts with the Amygdala when a person has memories with emotional ties. According to The Canadian Institutes of Health Research the connection between the Hippocampus and Amygdala "may be the origin of strong emotions triggered by particular memories," explaining emotional responses to traumatic memories.
Prefrontal Cortex (highlighted in gold!)
Located near the front of the head and is involved in decision making in response to emotions, basically, thinking about thinking! According to The Canadian Institutes of Health Research the Prefrontal Cortex regulates anxiety and controls what decision a person makes when faced with an emotional reaction. That is because one's level of anxiety will affect the decisions one makes, you need a clear head to think!
Hypothalamus – (highlighted in gold!)
This feeds information into the Amygdala (soo tiny with such a big job!), like the Hippocampus . Shippensburg University states that the Hypothalamus acts as a regulator of emotion, controlling levels of sexual desire, pleasure, aggression and anger. Essentially the Hypothalamus is your appetite regulator!
Cingulate Gyrus – (highlighted in red!)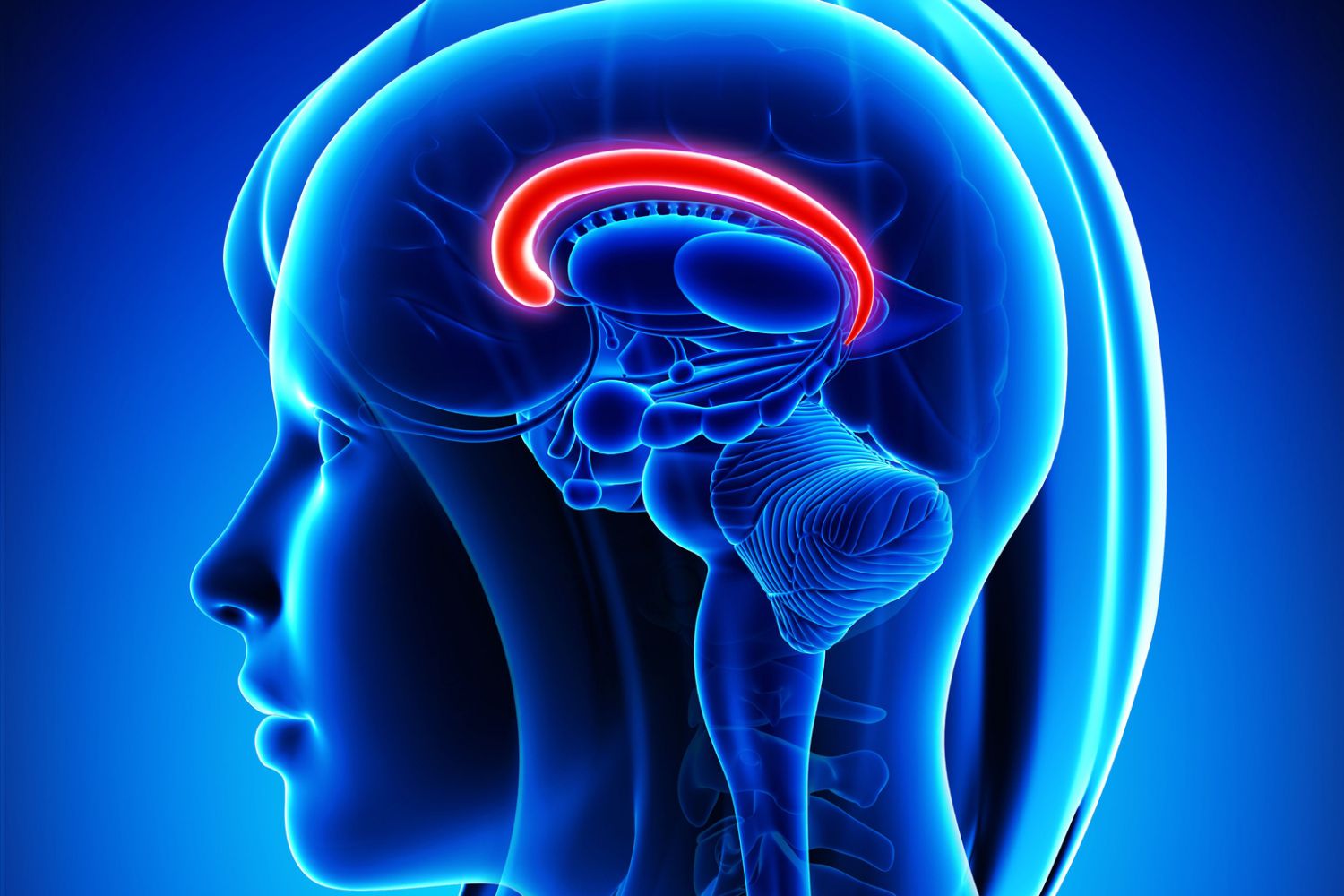 This acts as a pathway between the Thalamus and the Hippocampus and plays a role in remembering emotionally charged events. Shippensburg University (again lol) notes that the Cingulate Gyrus focuses our attention on the event, alerting the rest of the brain that it is emotionally significant.
Ventral Tegmental Area (the little balls and arrows)
Just to clarify the picture, this is the dopamine pathways, it's a circuit in your brain that deals with reward and punishment. The arrows and balls just show where things flows to and from where.
This area is also involved in emotions and love but particularly in how a person perceives pleasure. Dopamine pathways are located in the Ventral Tegmental Area. Let's just discuss Dopamine a bit more. Dopamine is a neurotransmitter involved in mood and increased levels elevate the person's level of pleasure. It also helps you to move but what is important in this article is feelings. Dopamine also helps with reinforcement — motivating us to do something again and again. Dopamine is what prompts a lab animal to repeatedly press a lever to get tasty pellets of food. And it's part of why humans seek out another slice of pizza! Reward and reinforcement help us learn where to find important things such as food or water, so that we can go back for more. Dopamine even affects moods. Things that are rewarding tend to make us feel pretty good. Lowering dopamine can make animals lose pleasure in activities like eating and drinking. This joyless state is called anhedonia (AN-heh-DOE-nee-uh). Dopamine also helps us focus on things. Anything that's rewarding, after all, is usually well worth our attention. Dopamine has a more sinister side. Drugs such as cocaine, nicotine and heroin cause huge boosts in dopamine. The "high" people feel when they use drugs comes partly from that dopamine spike. This then prompts people to seek out those drugs again and again — even though they are harmful. Indeed, the brain "reward" associated with that high can lead to drug abuse and eventually to addiction.
Now this is all very interesting how chemicals and electricity regulate and control our emotions. However, what I would like to know is how things go from electricity and chemicals to a feeling? These things also don't explain why people react differently to the same scenarios when we all have the same kit in our brains? These unanswerable questions are what I think gives evidence for not only more than 3 dimensions but also the human spirit. We are clearly more than atoms because we all have the same kit but respond differently to the same scenarios, you cannot say it's always upbringing because some people are brought up very well and end up as serial killers and some people are abused as children but end up working for the UN or an NGO.
What are you saying Catherine?
Ultimately, what I am saying is that although the Limbic System is responsible for regulating emotions and helping us to feel these emotions and remember to associate them with various thing to help us to function effectively, it does not explain Personality. It only explains personality disorders which occur when things go wrong in the brain. Personality cannot be pinned down to any part of the brain, we can see evidence of it in the Limbic System but we cannot see it touching or interacting with the brain, personality is the essence of a human being and it's ethereal (follow this link for definition), not corporeal (follow this link for definition) like our physical brains.
I grew up in the same house with my brother with the same parents and had the same punishments and rewards but we are two different people. He likes crowds, I like solitude, he likes noise, I like the quiet, he likes having lots of friends, I like a few close friends. Certain scenarios irritate him intensely, whereas the same scenarios don't even register as a thing with me. On the flip side some things that agitate me intensely wash off his back like water off a ducks back lol. Why is that when we have lived similar lives?
The Limbic System and the other things in our brains also explain addiction, why we get sad and our fight and flight response but they do not explain the billions of variations and levels of addicts, sadness and flightiness. These things also do not explain why some people are in love with one person but not another even though they may look similar?
It is personality that makes me think that humans have spirits, I believe that what we call personality, is in fact Spirit.
Our bodies, to me, are like the following metaphor: our bodies are just like space suits that an astronaut uses to walk in and interact with the vacuum of space and the person inside is their spirit. The space suit looks one way on the outside but the person on the inside can be looking and feeling something totally different. In a similar way, our bodies are like casings or suits that allow our intangible spirits to interact with the tangible physical realm of the universe that we live in. Sometimes people look one way on their physical face but inside, if we could see their spirits, their spirits are angry or lustful or sad. It is the fact that human responses are not uniform, like Vulcan's lol, sometimes our responses are irrational! This is what suggests to me that there is something else interacting with our brains that has not been identifiable yet that causes this. I think this is Spirit. I think this along the same lines as to why scientists think that dark matter exists, they can see atoms responding to/interacting with something that they cannot identify or touch and that thing they cannot identify easily they have called dark matter. Likewise, I can see that our physical bodies are interacting with something that cannot be easily identified or measured but it is clearly there, I have as others before me, labelled this thing as Spirit and if that is true it proves that Jesus (who is God) is also true because God (who chooses to identify as God the Father "Yahweh", God the Son who we know as Jesus and God the Holy Spirit) is Spirit who created us like himself as it says in Genesis:
"[26] Then God said, "Let us make human beings in our image, to be like us. They will reign over the fish in the sea, the birds in the sky, the livestock, all the wild animals on the earth, and the small animals that scurry along the ground." [27] So God created human beings in his own image. In the image of God he created them; male and female he created them." (Genesis 1:26-27 NLT)
So if we do have Spirit, the part of us that is like God, then we indeed have a God too!
Catherine x
Bibliography
Brookshire, B. Explainer: What is dopamine? Science News For Students Web site, at: <https://www.sciencenewsforstudents.org/article/explainer-what-dopamine&gt; 1 November 2018
Stannard, L. What Parts of the Human Brain Correspond to Emotion or Love? Livestrong Web site, at: <https://www.livestrong.com/article/77419-parts-human-brain-correspond-emotion/&gt; 1 November 2018